Big night tonight in the NHL, so lets not waste any time. Previews below.
Boom.
(getty images)
Phoenix v. Boston 12:00 ET from Prague? Latvia? Europe..
-
Eager to build on their 4th seeding and 100 + point campaign (and a 3-1 win against Dinamo Riga) the Coyotes are raring to go. It's anyone's guess as to which version of Wojtek Wolski comes to play. Boston, well..we all remember what happened to them (cue the Bruin fans whining 'that was last year') Like the kid who crapped his pants in jr high, we don't forget.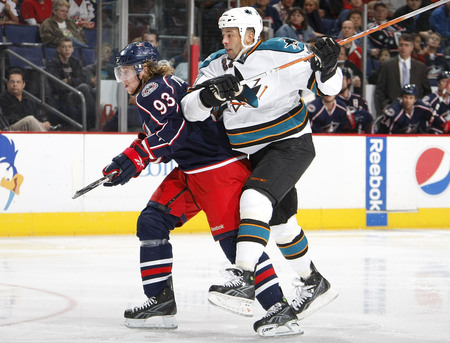 (bleacherreport.com)
San Jose v. Columbus 3:00 ET from Stockholm Sweden
-
For the first time this season, one team will remain undefeated or winless. We'll let NHL.com fill you in...
' Special teams meant everything on Friday, as there were 17 minor penalties called in the game. The Sharks scored twice on the power play, including Couture's game-winner in the third period. The Jackets were just 1-for-7 with the extra man but looked sharp at 5-on-4. If the Jackets can cut down on penalties and play as well as they did at 5-on-5 for a second straight game, they could earn the split in Sweden.'
Sound good?
(getty images)
New York Rangers v. Buffalo 7:00 ET from Buffalo
-
Coming off a win in Ottawa friday night, the New-Look Sabres (love the jerseys) take on the Rangers, who haven't played a meaningful game in 6 months. (It came down to a shoot out against Philadelphia in the final game of the season, they lost and so went their playoff hopes) The Sabres took the season series 3-1.
(nationalpost.com)
Ottawa v. Toronto 7:00 ET from Toronto
-
Saturday night, and the Leafs are on CBC, some things never change. Except this season, the Leafs have a shot at winning two in a row, something they didn't do much of to start the season off last year. They also get the fortune of playing the Senators, a team they usually dominate. NHL.com Fun Fact
'[The Leafs] are trying to start the season with back-to-back victories for the first time since winning three in a row to start the 1999-2000 season.'
Told you. Season Series went 4-2 in T.O's favor.
(Getty Images)
New York Islanders v. Dallas 7:00 ET from Long Island
- After a hard fought W friday night in New Jersey, the Stars roll into Nassau Coliseum on a high. The Isles suffered two big losses in the pre season, with Mark Streit and Kyle Okposo going down for the long term. GM Garth Snow responded by grabbing Michael Grabner off waivers and signing Mike Mottau to a two year deal. Rick DiPietro has been cleared to play, which marks the first time in forever he's started a season in pads and not in a padded room trying not to further injure himself.
(montrealcanadians.net)
Montreal v. Pittsburgh 7:00 ET from Pittsburgh
- Both the Pens and Habs will be searching for their first win Saturday night. The Flyers spoiled Pittsburgh's christening of Consol Energy Center, and Montreal lost a close one 3-2 to the Leafs. This will mark the first time since Game 7 of the Eastern Conference Semi Final that these two teams will meet. The Penguins will no doubt be out for a little revenge. Season Series saw Pittsburgh with the advantage 3-1.
(nydailynews.com)
New Jersey v. Washington 7:00 ET from Washington
- The Capitals will raise their 2010 Presidents Trophy banner tonight, (I'm sure Ted Leonsis will tell the fans that the Caps have 'arrived') and the go out and try and maybe..you know..win? They dropped their first game 4-2 to the Thrashers. New Jersey is also searching for their first W, after surrendering 3 different leads against Dallas before losing in OT, yet the line of Zajac-Parise-Kovalchuk contributed 2 goals and 5 points in the loss. Ovechkin picked up an assist in the Caps' loss to Atlanta. New Jersey took the season series 4-1.
(lightningshout.blogspot.com)
Atlanta v. Tampa Bay 7:30 ET from Tampa
- The Stevie Y era beings in Tampa as the re-tooled Lightning take on their Southeast rivals in the Thrashers(Hawks.) Steven Stamkos will begin his assault on the net (from the top of the circles) as he looks to improve on last years' impressive 51 goals that saw him walk away with half of the Richard Trophy (Crosby taking the other half.) Simone Gagne will make his debut in something other than Flyer Orange for the first time in his career. For the Thrashers, Evander Kane will try and expand on his NHL Leading 2 goals. NHL.com Fun Fact '
Tampa Bay has missed the playoffs the last three years with three different coaches, three general managers and two owners.'
(getty images)
Philadelphia v. St. Louis 8:00 ET from St. Louis
- We can count on one hand (finger) how many times these two teams meet. The Flyers won 2-1 in OT. Netminder Sergei Bobrovsky will try and keep the good times going for Philly, who stole the show in Pittsburgh stopping 29 of 31 shots. St. Louis will open their season trying and rebound after a disappointing showing last season, where many picked them to make the playoffs.
(getty images)
Anaheim v. Nashville 8:00 ET from Nashville
- Anything would be an improvement over last game for Anaheim, where they fell behind by 2 only 6 minutes into the game versus Detroit. (losing 4-0) Nashville opens up their season with a new Captain as Shea Weber dons the C after Jason Arnott left for New Jersey in the off season. (Pekka Rinne better be lights out, I've got him in my Fantasy League.)
(getty images)
Detroit v. Chicago 8:30 ET from Chicago
- As you read above, the Wings had a solid showing against the Ducks Friday night.(complete with Pavel Datsuyk chucking knuckles with Corey Perry) looking to go 2-0 against the defending champs, who dropped their first in Colorado. Speaking of defending champs, Chicago will raise their 2010 Stanley Cup banner to the roof of the United Center, which will be sure to set the crowd into a frenzy.
(inform.com)
Los Angeles v. Vancouver 10:00 ET from Vancouver
-
40 years ago today, someone decided it would be a great idea to put an NHL team in Vancouver, whoever that was lost serious money on their investment. 40 years and one finals run in 94 is all the Canucks have to show for themselves. These two teams met last year in the first round of the playoffs, with the Kings bowing out in 6. (prompting the city of Vancouver to throw a party) Experts are picking either one of these two teams as legitimate Stanley Cup contenders this season. Living in Vancouver, I really hope they're wrong. Expect the tin foil hat brigade to argue every call against the 'Nucks. Vancouver took the season series 3-1, but the last game had the Kings putting a touchdown plus 2 past Lou in an 8-3 win. LA played Vancouver 40 years ago, and both teams will be outfitted in their respective retro jerseys. LA's looking like a
bottle of Crown Royal,
while Vancouver will sport a jersey similar to the atrocity that is their
'stick in the rink'
look.
- Jaye