Another 'Celebrity' post today. Seems our friends at Down Goes Spezza read yesterdays post about Stephen doing every prediction BUT who will win what award. Fear not psychics. Our friends and rivals at DGS have you covered....
****
NHL Awards Predictions 2010-11
Hart Memorial: MVP
Nominees:
Henrik Sedin, Steven Stamkos, Sidney Crosby
(nhlsnipers.com)
Winner: Stamkos takes his first MVP,
beating out Ovi and Crosby in a close vote.
Art Ross: Scoring Champ
(thehockeynews.com)
Winner: Henrik Sedin 33G 92A 125P
Other 100P topping players
Steven Stamkos 55G 45A
Sidney Crosby 41G 77A
Ilya Kovalchuk 60G 42A (Look at the weak goaltending of the Atlantic division)
Daniel Sedin 41G 61A (if he stays healthy)
Evgeni Malkin 35G 72A
Rocket Richard Award: Most goals
(nucksicemen.com)
Winner: Ilya Kovalchuk 60G
Names:
Alex Ovechkin 57G
Steven Stamkos 55G
Jeff Carter 47G (could be a Flyers homer here)
Selke Trophy: Best Defensive Forward
Nominees:
Ryan Kesler, Mike Richards, Pavel Datsyuk
(phinallyphilly.com)
Winner: Mike Richards
finally takes this award
Norris Trophy: Best Defenseman
Nominees: Duncan Keith, Drew Doughty, Zdeno Chara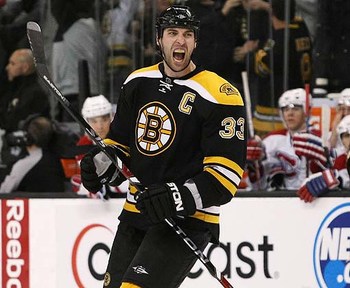 (bleacherreport.com)
Winner: Zdeno Chara
, Chara has a big year as he looks for a new contract.
Vezina Trophy: Best goaltender
Nominees: Ryan Miller, Martin Brodeur, Jon Quick
(blog.suntimes.com)
Winner: Miller takes this award
, Brodeur's too old to be elite…tho still a talent, and I can't see Quick duplicating his success from last year.
Jennings Award: Fewest Goals Allowed
(committedindians.com)
Winner: Marty Turco
Turco's an underrated goalie who will face next to nothing in net because of how great the Hawks Defense is, this award will be won by Keith/Seabrook/Hjallmarsson more than Turco, but Turco's name will be on the trophy.
Calder Trophy: Rookie of the Year
Nominees: Taylor Hall, Tyler Seguin, someone else (
Ed. Note - Jordan Eberle)
…it's the Taylor vs. Tyler rematch!
(prohockeytalk.nbcsports.com)
Winner: Tyler Seguin
wins this award having decent numbers…say 60-65pts on a solid Bruins team.
Lady Byng
Nominees: Chris Pronger, Steve Downie, Sean Avery (just kidding)
Real Nominees: Martin St. Louis, Pavel Datsyuk, Brad Richards
(zimbio.com)
Winner: Martin St. Louis
again, just to watch his 5'5" frame give a speech.
(Ed. Note - I want to see him give another one from his Blackberry)
Jack Adams: Coach of the Year
Nominees: Dave Tippett, John Maclean, Peter Laviolette
(gettyimages)
Maclean wins the award
for surviving Lou and the jelly tossed at him in NJ.